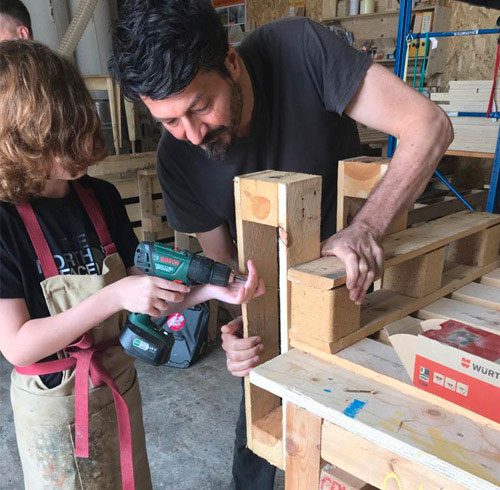 About us
Back on Track Liverpool offers bespoke accredited programmes of creative skills, numeracy and literacy and personal development to re-engage young people excluded from mainstream education, or young people not in work, education or employment. Although we operate across the whole of Merseyside, we have a particular interest in offering support to excluded or disengaged young people in the Liverpool 8 area.
We provide practical skills-based learning to challenge our young people, build confidence, self-esteem and open up new avenues and opportunities for their futures.  Check out our Young People page for examples of the type of vocational skill training we can offer.
Schools
On Liverpool City Council's Accredited Providers' Framework for Alternative Education, Back on Track can offer a range of services for schools to prevent and address disruptive behavior.  Tailored to the needs of your school and your pupils, we can offer 1-2-1 support or small group working aimed at re-engaging young people before they reach exclusion.
Our services also include a hate-crime awareness programme to challenge perceptions and behaviours which can lead to bullying or discrimination.
We are happy to come out and talk to you – please get in touch with your needs.

Young People
Not every young person suits traditional schooling and sometimes this leads to behavior warranting permanent exclusion.   We offer an alternative that is focused on practical, creative subjects that come with certificates, and help develop the whole person – not just their academic achievements – and allow them to go on to build a future based on their talents.
For those young people who have finished formal education but don't know what they want to do, we are running a number of projects that offer a chance to learn new skills, develop new ideas, choose a future for yourselves.  Check out our Young People page for up-to-date information.

Parents
Has your child been permanently excluded from school?  Back on Track is a not-for-profit alternative education provider, approved by Liverpool City Council, that offers a creative, practical curriculum that incorporates functional skills such as Maths and English and leads to recognised qualifications that can support them as they move into further training or work.   Our focus is on the young person so we also prioritise developing confidence, self-esteem and a belief in themselves and their abilities. We don't offer exam coaching, but a programme that will re-engage young people in learning for learning's sake.